Miss Elite World 2021 & International Beauty Pageant , Miss Elite meaning
LSJ Company's jewelry brand Lucia Jewerly (Lucia Jewelry) CEO Seo-jin Lee revealed a photo with the European CEO of Bererus at the Miss Elite overseas beauty contest.
Lee Seojin, a South Korea participant is the best selling book author (23 years old first book)and wrote 4 books- about her life and musician and business. Also she graduated Ewha Woman University majoring doublebass contrabass. Her sister is also a violin&viola artist. Her mother is a pianist who graduated from Seoul National University in which is the 1st university in South Korea. Lee Seojin is in the classic team, which is called, Keyjoys that she has made, invested all thing, and held many parties with clssic.
Also, she has been advertised in many subway magazines and become a celebrity as a music student CEO earning 20 million Won per month in net profits. Before the final stage, there were many activities, such as a visit to the pyramids, press conferences, swimwear, folk costumes, dress contests, horseback riding, camels, safaris, bicycles, tennis, golf, and other activities.
She has released clsssic album as "Keyjoys" and K Pop dance group as "B-Triple"
You can see her businesses about branding, marketing advertisement, book publishments, entertainment, party, stage making, and jewerly through instagram "lsjcompany" or www.lsj컴퍼니.com.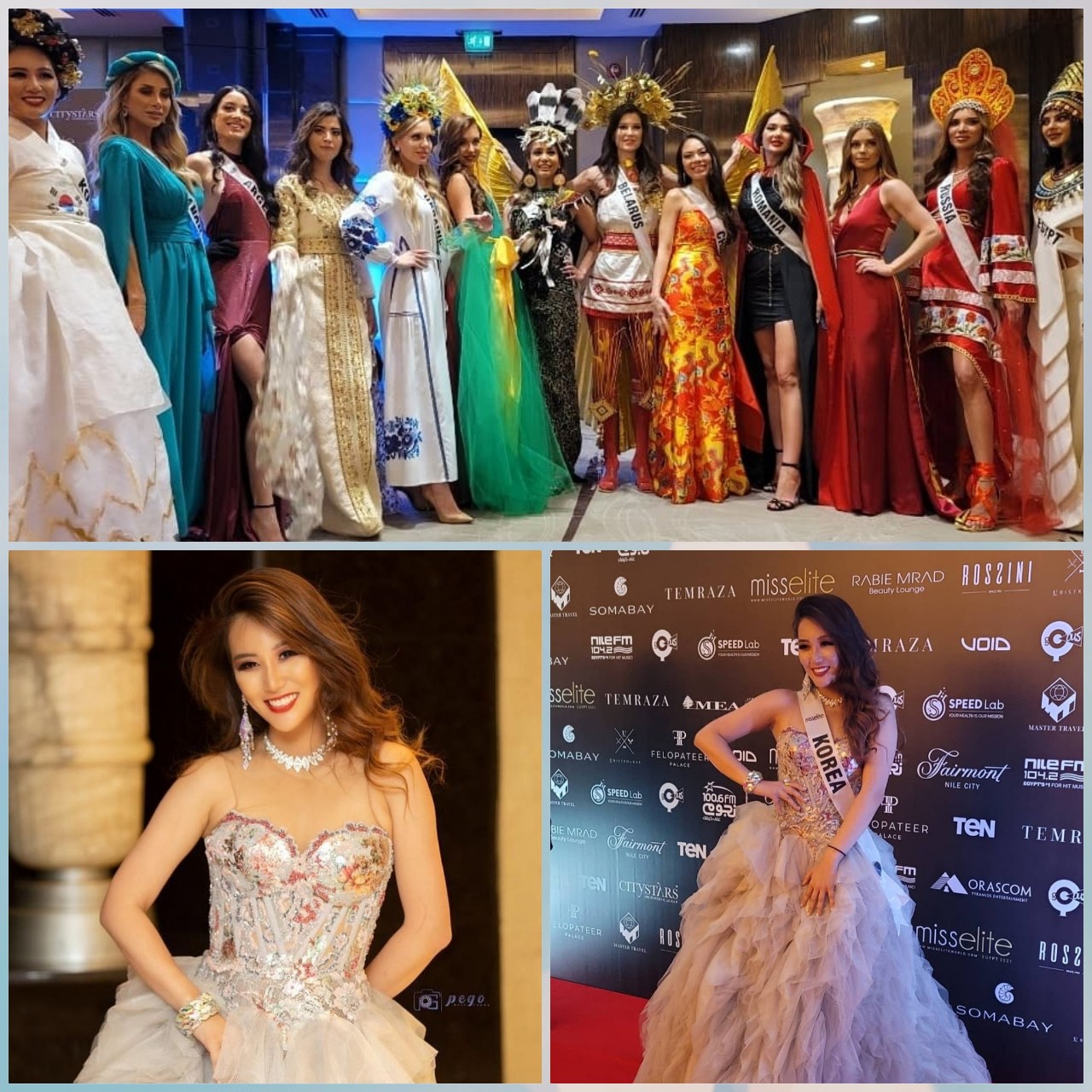 ⒸLSJ Company
Lucia Jewelry which has been launched in the summer of 2019 possesses a store in Lotte Department Store at Ilsan. It has an offline store in Apgujeong Rodeo. It is characterized by being able to express taste.
CEO Seo-jin Lee, who participated in Miss Elite overseas beauty contests, showed confidence in various activities such as horseback riding, white party, PR shooting, and golf through her SNS. In addition, in an interview with the Egyptian broadcasting news media, the company showed proficient English skills by introducing the cultural contents businesses, such as brand marketing, consulting, book publishing, performance planning and directing.
CEO Seo-jin Lee introduced the business and said, "In a time when personal branding is important, I thought that it would be nice to have accessories that could express my outlook on life. So I have started a jewelry business for splendid places like stage and beauty contests." They are prepared in a variety of ways from colorful to colorful designs. So you can wear them differently based on the situation."
In addition, at this Miss Elite Overseas Beauty Contest, we will publish a book focusing on women's careers and beauty contests by connecting with global influencer participant.
On the other hand, the Miss Elite Overseas Beauty Contest was held with local Egyptian news broadcasts and contents to learn about each other's countries with self-introduction. It was a competition where young career women around the world, who have been selected by passing various criteria such as not only their appearance, but also intelligence and personality. They gathered to show off their beauty and intelligence. Participants representing each country, including fashion week models, participated in the exhibition.
The Miss Elite Overseas Beauty Contest held for two days starting from May 19th at Grand Finale, Il Fairmont Nile City, Egypt, Boot Camp at the Red Sea at Soma Bay Beach Resort, Egypt, Arabian Star of Super Star (Arab Version of American Idol Fan) and Aiman Kaissouni Host. Carla Haddad danced together. Before the final stage, a visit to the pyramids, press conferences, swimwear, folk costumes, dress contests, horseback riding, camels, safaris, bicycles, tennis, golf, etc.
ART Exhibition Celebrating performance
Social Party Performance ( Stage Directing, Party All Stop Package)
(K -Art Branding Company)
- Hosting exhibitions for music artists and artists, press pr, book publishing, photo/video shooting and recording materials, website production, interview video production, commercial video production, ppl, various collaboration planning and SNS account management, branding related to culture and arts I am a content agency.
The stage with foreigners- K pop Korean Traditional song
LSJ company with motto called, "Find your value"
and based on CEO Lee, Seojin who has been famous from various portals as a 24 years old music student earning 20 million KRW of net profit per month
Obtained outside advisory [Lawyer, An Sehoon who passed bar exam from Law Department of Seoul National University]
and wrote (Finding music student's dream) becoming the best-seller in 2018 describing situation after graduating music major,
CEO Lee, Seojin who has been famous because of annual birthday party with more than 100 people, advancing to main ceremony of Miss Intercontinental Korea after not awarding from 2020 Miss Intercontinental Seoul, and winning 4 awards from the beauty contest, participated in Miss Aurora, the world beauty contest on behalf of South Korea
Consisting of experts who possess various experiences in many areas, such as making contents, PR agency, SNS online marketing, management, and education business
Conducted performance of Key Joys and social networking party with English MC by inviting foreigners on Aug. 2020
Also created Jewelry brand Lucia under LSJ company which entered Popup store in Ilsan Lotte Department store from Aqgujeong Rodeo and blue shopper bag. Conducted all projects related to planning and production including collaboration with various beauty brands, advancing to the world, exhibition, party, and fashion show.
Also expanded not only lifestyle, but also art area with various collaboration. Recently, the company has advanced to One-stop agency business for various events, such as performance specialized for wedding, photo, and wedding ceremony.
The company has established Art & Law association for public community services, which has conducted many volunteering service and public art performance by cooperating with governmental organization from the world and business group, obtained law advisory for neglected class of people, and exerted positive influence to job employment, solving multi-cultural procedure, emergency aid for refugee, and campaign for preserving environment.
LSJ Company is marketing, branding, Fashion, management, Education, Party, Wedding, Offline Event, and ceremony. Art, K-pop, K - Entertainment with multilingual subtitles. And also, Jewelry, bag, perfume.
Key Joys (artist brand) is Korean artist and our team's goal is that everyone becomes to know about classic music beauty. Our team's music is on the bugs and melon site
The team has not only conducted celebration performance hosted by national assembly for Han, Hanguk, a peaceful writer in the world, art exhibition, and business event,
but also implemented sole performance concert in various places, such as Hapjeong Stay Lounge, Glue Hotel, Aqgujeong Rodeo, and etc.
The team also conducted various performances, such as volunteering services and outside busking for civilians.
The team has tried the best to make more jobs for women who have been rejected due to their career and related to art and physical education area.